Lake level is 705.43 with water temp in the lower 70's in the lower part of the lake.  The mid lake area is pretty clear. White bass action this past week was out of sight.  Whites and small hybrids were schooled on the shallow humps with some nice hybrids  in just a little deeper water near the humps.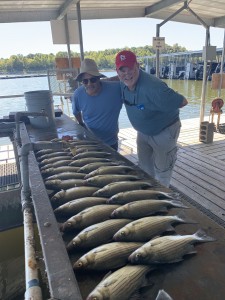 All caught on my 3/4 oz jigging spoons.  Green and white combo was the best producer followed by Green Chartreuse..Casting with a bouncing retrieve seemed to be the best pattern.
Can't say much for crappie fishin this week as I didn't do any.  I saw a few at the cleaning station and the remarks were, hard to find and weed through the little ones…..  This will all change about mid October when the water cools some more.
The weather is cooling off and I have a good schedule for October.  Get in on this white bass action.
That's about it for  September 30, 2021. Help the other guy when you can and remember your life jacket works best when it's worn. Bob