Lake level is 706.18 with water temp in the upper 70's in the lower part of the lake.  The mid lake area is pretty clear. White bass action this past week was out of sight.  Whites and small hybrids were schooled on the shallow humps with some nice hybrids  in just a little deeper water near the humps.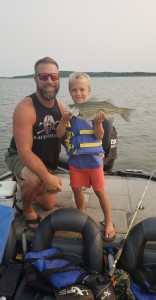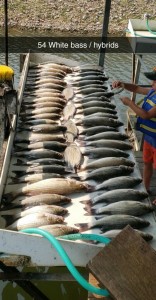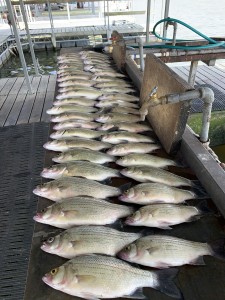 Archer is just 5 years old and he, his Dad Tyler, and Matt caught limits on 3/4oz green and white jigging spoons in 15-17 feet of water.  Archer is pictured here with one of his many catches.  The total catch is pictured above with Archer in the right hand corner checking his layout of all the fish.  Needless to say it was an exciting day for Archer.  In the third picture, Scott is showing off his best of the day while Jim was counting the fish.  These whites are in good size schools but really spooky on these bright sunny days, but they don't go far before they settle back down on the bottom.
I can't say much about the crappie in the mid-lake area as I haven't been crappie fishing in almost 3 weeks.  While we were cleaning Archer's fish, another well known Guide on the lake, was cleaning crappie and said they caught over 140 crappie but only managed 28 keeps.  The little crappie are all over the place and that is a good sign for the years ahead.  Brush piles are your best action spots and whether you use minnows or jigs, it just a weeding out process.
That's about it for  September 15, 2021. Help the other guy when you can and remember your life jacket works best when it's worn. Bob