`Lake level is 704.97 with water temp in the upper 30's in the lower part of the lake.  The mid lake area is pretty clear. Watch for patches of ice early in the day and around the edges.  Be extra careful at the ramp sites.
Crappie fishing is excellent right now with limits being taken pretty much all over the lake.  It's cold and windy but several days it was in the low to mid 50's just before this current cold s nap.  Tuesday, Wednesday and Thursday we caught limits of crappie with lots of returns.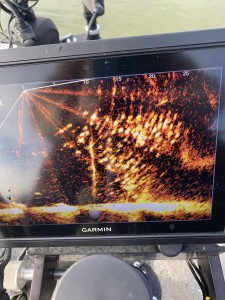 Most all the crappie have been caught in the 12-16 foot  range in 20 feet of water or deeper.  Jigs with almost any color body are taking fish.  Caught a lot of white bass on the bottom in schools of shad.  Right now seems like crappie, whites and blue cats are feeding like crazy.  If you can brave the frigid temperatures you can get a limit in pretty short order.  We have been going out about 9:30 and fishing until about 3pm.  Biggest problem for me is the wind.  But where there is a will there seems to be a way.
Better start thinking SPRING, it will help calm you on these super cold days.  Crappie eggs are starting to develop in the larger females and seems like we have a good crop of crappie coming on for the spring.  Most all the fish we have been catching are in the 10-12 inch range.
Keep warm, watch out for the other guy and your life jacket works best when it's worn…Bob