The current Lake level is 704.80 with the water temperature in the low 70's.  The lake is dangerously low while the Dam is being worked on and could possibly reach lower levels.
This has been a pretty good month so far with the hybrids and white bass.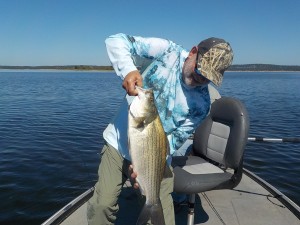 It was a strange week as if the sun was out the fish were on fire, but if it was cloudy, should have stayed home.  All the fish were caught in less than 20 feet of water on a  1 ounce green and white "Hot Dog" jigging spoon.  We were casting as far as we could because of spooking the fish if up to close, and hopping it back to the boat.  Once the "feed" began we could slowly retrieve the spoon and get a good hit.  Most of our hybrids were in the 6-7 lb range with one or two 8-9.  Lots of White bass also running with the hybrids.
I have seen a few limits of crappie at the cleaning station at Sterett Creek Marina, but most folks have not had limits, but what they had was in the 11-14 inch range.
October is shaping up to be a good month.  The fall feed up should begin, with the white bass and hybrids going to the I just hope the colder weather stays away until November.
That's it for this report.  Please be extremely careful on the lake and know where you are, and above all wear that life jacket!